Newsletter
New Member Profile – Nate Hinkel,
KDOT
March 17, 2014 2:00pm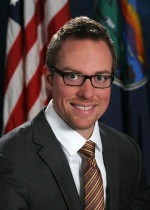 In February 2014, KDOT Aviation added a new position of manager of marketing and outreach. Nathaniel ("Nate") Hinkel joined our team and opened a satellite aviation office in Wichita at the Kansas Turnpike Authority's headquarters building. Based in Wichita, he provides our office with a stronger presence in the Air Capital and other areas of Kansas.
Nate will be an instrumental team member in planning the 2014 Kansas Aviation Expo and Air tour, along with other events throughout the year. He will become a familiar face in the aviation community, and he is eager to promote aviation in his native state of Kansas. Nate manages the Kansas Aviation Marketing Program, which seeks to build synergistic relationships with key stakeholders to promote aviation and economic development opportunities across the state.
Nate brings with him over twelve years of diversified experience in aviation. A private pilot with single and multiengine ratings, Nate holds a Bachelor's degree in Aviation Management from Kansas State University; he served in the Kansas Air National Guard as a Crew Chief on the KC-135 Stratotanker, and most recently an aviation insurance underwriter with USAIG.
Nate has also enjoyed weekends as an Airport Technician at the Augusta Municipal Airport in that time. Nate is very active in the Young Professionals of Wichita organization. He serves as the Ambassadors action team chair, leading a team that emphasizes in marketing and outreach for the organization. Serving as a Big Brother with Big Brothers Big Sisters, Nate is passionate about reaching youth while developing aviation awareness and education.