Events
WAC Golf Classic!
The Wichita Aero Club will host its ninth annual Golf Classic on Monday, July 2, 2018. It will be the first time we haven't played on a Sunday—and it won't conflict with Father's Day, either. Instead, we'll have the same great course to ourselves and we'll tee off at 8 a.m. while it's still relatively cool. This should allow us to conclude the tournament with a luncheon and awards ceremony to be held in the Crown/Tapestry Room of Crestview Country Club. As always, this WAC event supports our Edward W. Stimpson and H. Dean Humphrey Scholarships and provides players with the opportunity to play on the same pristinely manicured course at Crestview Country Club that the PGA TOUR pros will have recently played during the Web.com Wichita Open.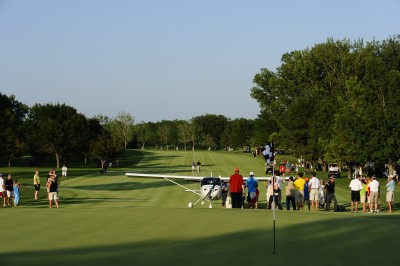 The WAC Golf Classic is always fun— with a Scramble format and several opportunities to take home some additional rewards! Players will compete in longest putt, longest drive and closest-to-the-pin contests and also have a chance to win a new car with a hole-in-one. We're bringing back last year's popular "Scholarship Shootout" that provides every golfer with a chance to win a substantial cash prize—and add a bonus to the scholarship fund at the same time!
Questions? Shoot an email over to [protected email address] and we'll get you straightened out. Don't worry, there's plenty of time to straighten our your drive, too! For more information on this year's tournament, click here.
Get your reservation turned in early and take advantage of 2017 pricing!
Individual – $350
4-person Team – $1,250