Events
2017 ON-AIR SUMMIT
December 12, 2017
Doubletree Hotel by Hilton at Dwight D. Eisenhower National Airport
11:30 a.m. - 1:30 p.m.
Panelists: Aviation Week Editors
We're thrilled to announce our 2017 panel: editors of the Aviation Week Group's nationally renowned aviation publications, which cover all segments of the aerospace industry from general and business aviation to international defense and space.
The panel will be moderated by Daniel McCoy of the Wichita Business Journal and Jerry Siebenmark of the Wichita Eagle.
The 2017 On-Air Summit Panelists: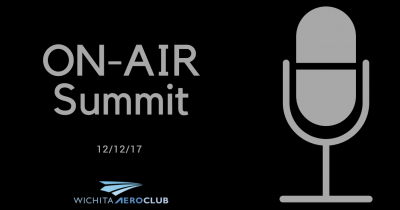 Molly McMillin of THE WEEKLY OF BUSINESS AVIATION spent 19 years at the Wichita Eagle before moving to AVIATION WEEK GROUP's popular business aviation newsletter in 2014. She previously worked at the WICHITA BUSINESS JOURNAL. She is a past winner of NBAA's Gold Wing award for Excellence in Journalism (in 2013). She is a graduate of WSU and a licensed pilot.  
Bill Garvey has been Editor-in-Chief at Business and Commercial Aviation magazine and a contributor to various other AV WEEK publications for nearly two decades. He previously spent time at THE READERS DIGEST as a contributing writer to NPR, AIR & SPACE SMITHSONIAN, POPULAR MECHANICS and The Discovery Channel. He has also served as Editor of both FLYING and PROFESSIONAL PILOT magazines.
 
Guy Norris is a Senior Editor for Aviation Week, based in Los Angeles. Before joining Aviation Week in 2007, he was with Flight International and the Jane's Information Group. He has been honored with several journalism awards and has authored more than a dozen books on the air transport industry including several volumes on the histories of Airbus, Boeing and other airframe manufacturers. He also wrote the aerospace section of a science encyclopedia and has co-authored and produced an educational CD-ROM on aviation, as well.
The Details.
We are accepting reservations for the luncheon! The luncheon will be held in the Emerald Ballroom of the Doubletree Hotel by Hilton at Dwight D. Eisenhower National Airport. It will begin at 11:45 a.m. and end at 1:30 p.m. Reservations can be made using the form below, by calling 641-5962, or by emailing [protected email address]. The cost to attend the summit is $30 for members and $40 for non-members.