Events
A KC-46 Evening Event!
November 14, 2018
Kansas Aviation Museum
5:00 p.m. - 7:00 p.m.
Featured Speaker: Colonel Joshua M. Olson
Please join us the evening of November 14 as we welcome Colonel Olson to the Kansas Aviation Museum for our next event. He'll catch us up on the impact the highly anticipated KC-46s will have upon their arrival!
About Colonel Joshua M. Olson
Colonel Joshua M. Olson is the commander, 22nd Air Refueling Wing, McConnell Air Force Base, Kansas, the Air Force's largest tanker wing. The wing provides all-weather, in-flight, aerial refueling for U.S. and allied military aircraft and airlift for global reach projection of troops, equipment and supplies, worldwide. Colonel Olson commands more than 3,500 active-duty Airmen supporting global contingency and conventional operations as well as U.S. Strategic Command's operational plans. The 22 ARW is the host wing for the Kansas Air National Guard's 184th Intelligence Wing and the Air Force Reserve Command's 931st Air Refueling Wing.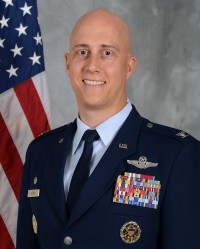 His operational assignments and deployments include KC-10 instructor pilot, Travis Air Force Base, Calif., C-130E/H evaluator pilot, Pope AFB, N.C., and as the 37th Airlift Squadron Commander, Ramstein Air Base, Germany. At his previous assignment, Colonel Olson served as the Vice Commander, 386th Air Expeditionary Wing, Southwest Asia where they commanded over 5,700 rotational Airmen in 6 expeditionary groups and 20 squadrons across 7 countries in the CENTCOM area of responsibility.
Colonel Olson entered the Air Force through the ROTC program as an honors graduate from Michigan Technological University.
About the KC-46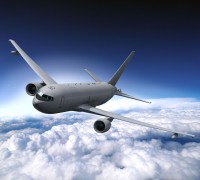 The long-awaited tanker replaces the KC-135 air refueling tankers that dominate McConnell's two air refueling wings, the 22 and 931st Air Refueling Wings.
McConnell was designated as the first base to receive the tankers. The base, in southeast Wichita, has about 3,000 airmen and employs about 500 civilians. Altus Air Force Base in Oklahoma and Pease Air National Guard Base in New Hampshire also will receive tankers in the first round.
The KC-46 will be faster, fly farther and be more fuel efficient than the KC-135 it replaces. Unlike most of the KC-135s in the Air Force fleet, the KC-46 also has defensive systems that its crews can employ if their aircraft comes under attack.
Besides the refueling boom, which is operated from a panel near the tanker's cockpit, the KC-46 also is equipped with centerline drogue and wing-aerial refueling pod systems using a flexible hose. Those systems allow tanker crews to refuel military aircraft that aren't equipped to accept fuel from a boom. (The above is an excerpt from Jerry Seibenmark's account in June 2018. Click here to read the whole thing.)