Events
Shaesta Waiz of Dreams Soar
September 12, 2018
11:30 a.m. - 1:00 p.m.
Featured Speaker: Shaesta Waiz of Dreams Soar
We're thrilled to bring Shaesta Waiz of Dreams Soar to Wichita for our September luncheon this year.
The first female certified civilian pilot from Afghanistan, the first in her family to attend college, she has her master's degree and a burning desire to help others like her to achieve.
The number of women in the aviation field today is staggeringly low, and one of the reasons — according to the Teaching Women to Fly Research Project — is that "Girls need to see living aviation female role models."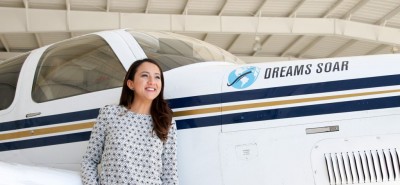 Dreams Soar was founded by just such a role model — an ordinary young woman who, by virtue of her upbringing, achievements, and near-term goals — is actually extraordinary. Shaesta Waiz was born in Afghanistan and emigrated to the United States as a young girl with her parents and five sisters. They lived in a poor school district, and Shaesta assumed if she was lucky enough to graduate, her next stop would be early marriage and motherhood… but never a career, and certainly not as a pilot!
A series of positive inflection points changed that trajectory, and today she's not only the first in her family to have a college degree, she also has a master's degree and just completed what may be the last piston powered solo flight around the world to inspire other "ordinary young women" that they too can fly – either literally as a pilot, or in reaching for dreams they never thought before that they deserved.
---
Tickets