Events
Shaesta Waiz of Dreams Soar
September 12, 2018
DoubleTree by Hilton Hotel Wichita Airport
10:30 am - 11:15 am STEM panel | 11:15 am - 11:45 am Mingle | 12:00 pm Shaesta
Featured Speaker: Shaesta Waiz of Dreams Soar
We're thrilled to bring Shaesta Waiz of Dreams Soar, Inc. to Wichita for our September luncheon this year.
The first female certified civilian pilot from Afghanistan, and the first in her family to obtain both a bachelor's and master's degree, Shaesta has a burning desire to help others like her to achieve.
The number of women in the aviation field today is staggeringly low, and one of the reasons — according to the Teaching Women to Fly Research Project — is that "Girls need to see living aviation female role models."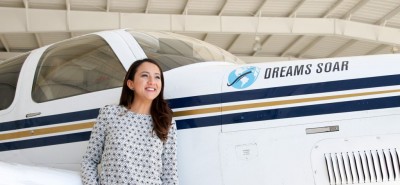 Dreams Soar was founded by just such a role model — an ordinary young woman who, by virtue of her upbringing, achievements, and near-term goals — is actually extraordinary. Shaesta Waiz was born in an Afghan refugee camp and immigrated to the United States as a young girl with her family. They lived in an underprivileged school district, and Shaesta assumed if she was lucky enough to graduate, her next stop would be early marriage and motherhood… but never a career, and certainly not as a pilot!
A series of positive inflection points changed that trajectory, and today she is the youngest woman to fly solo around the world in a single-engine aircraft, inspiring other "ordinary young women" that they too can fly – either literally as a pilot, or in reaching for dreams they never thought before that they deserved.
Join Us Prior To The Shaesta Waiz Presentation For A
STEM

Panel of Local Female Leaders in Aviation.

Please join us from 10:30-11:15 prior to the Shaesta Waiz luncheon to hear what aviation companies are doing locally to support STEM and young women in aviation. Our panel speakers include:

Spirit AeroSystems
Lea Anderson, Director, Business and Regional Jet Programs

Textron Aviation
Roxanne Howell, vice president, North American Customer Service Centers

Airbus
Brandi Chandler, Special Assistant to the VP and General Manager

Bombardier Business Aircraft
Tonya Sudduth, Vice President, Operations and Wichita Site

In addition, come shop the latest styles in Kendra Scott jewelry while supporting the Aero Club. 20% of proceeds will be donated to the Aero Club of Wichita.
Schedule
10:30-11:15 am

STEM

panel
11:15-11:45 am Mingle
12 pm Shaesta