Events
July 20 Luncheon
July 20, 2018
Crestview Country Club
11:30 a.m. - 1:00 p.m.
Speaker: Pia Bergqvist, Executive Editor of FLYING Magazine
Pia Bergqvist, Executive Editor at FLYING Magazine will present to the Wichita Aero Club at Crestview on July 20. Networking begins at 11:30 a.m.!
Pia Bergqvist joined Flying in December 2010. A passionate aviator, Pia started flying in 1999 and quickly obtained her single- and multi-engine commercial, instrument and instructor ratings. After nearly two decades of working in general aviation, Pia has flown somewhere around 75 different types (at least) and accumulated around 3,500 hours.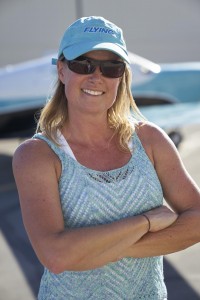 She has taught many people to fly, worked in aircraft sales and for the past eight years contributed to several aviation publications as an aviation journalist.
For four years, she owned a Cessna 170 named Peppermint Patty, which took her on many adventure flights such as whale watching in the Pacific Ocean off the coast of the Baja peninsula in Mexico and camping in the deep canyons of Idaho.
Pia will give a presentation on her winding path to becoming an aviation journalist for one of the most widely read aviation magazines in the world.
We're incredibly grateful to Pia for sharing her time with us; let's give her a warm Wichita welcome, shall we?