WAC Trophy Awardees
Paul Bowen, Aviation Photographer
December 13, 2016
On January 28, 2017, Paul Bowen was celebrated as the seventh recipient of the Wichita Aero Club Trophy.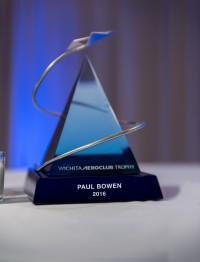 Since 1972 Paul Bowen has been an exemplary ambassador for the aviation industry and "The Air Capital of the World," producing the world's most creative, memorable and enduring air-to-air images. A loyal and proud resident of Wichita, his extraordinary photos have graced the covers of more than 1000 magazines and have set the standard by which all other aviation photos and photographers are measured.
His generosity extends well beyond his talent to include significant contributions to individuals, causes and charities within the aviation community.
Paul's honors include Canon's elite "Explorers of Light" team. Business and Commercial Aviation Magazine 2008 Vision Award. 2009 nominee for Aviation Week & Space Technology Magazine's annual Laureate Award. Photographer of the Year by Pro-Pilot Magazine. 2008 International Society for Aviation Photography Award of Excellence. San Diego Air & Space Museum's International Air & Space Hall of Fame inductee. Kansas Aviation Hall of Fame inductee and named to FLYING Magazine's "51 Heroes of Aviation" List.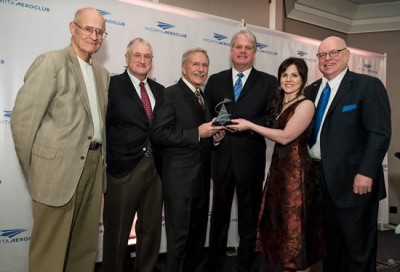 According to Kansas.com, he has been shooting aircraft photos for more than 40 years including for companies such as Textron Aviation Cessna. Bowen has also published four books featuring his airplane photography.
Bowen joins other Wichita aviation industry notables that have received the Trophy, including Cessna chairman-emeritus Russ Meyer and former Spirit AeroSystems CEO Jeff Turner.
The Gala took place on January 28, 2017 at the Doubletree by Hilton at Dwight D. Eisenhower Airport. Attendees gathered for a cocktail party before settling down in the ballroom for dinner and the presentation. Paul Bowen shared a personal slideshow of memories and moments in history that proved just how influential his career has been. For a full recap of the event, read more here.